The Virtual Field Geology project has been busy publishing and presenting at the 2021 annual conference of the Geological Society of America.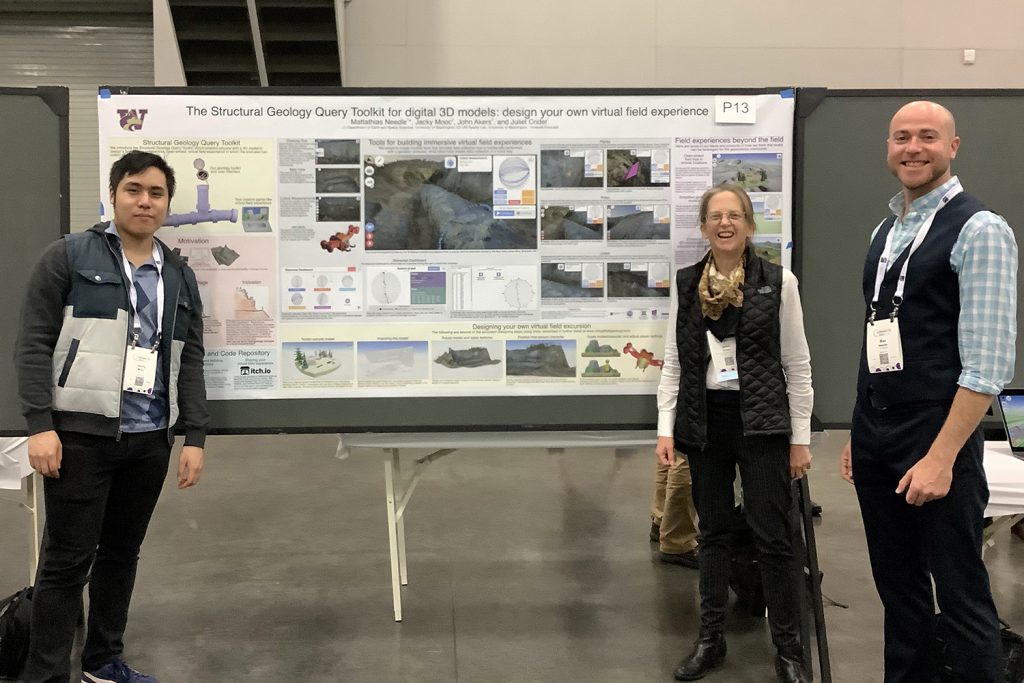 RECAP: Virtual Field Geology is a toolkit allowing users to practice field geology on any 3D terrain data set, allowing detailed stereonet measurements on locations they cannot reach or cannot stay in long enough, whether that's a hillside, the seafloor, or another planet. More info on the project in the February 2021 News item.
The team traveled to Portland, Oregon in October for the the annual meeting of the Geological Society of America (GSA). There, they ran a day-long course entitled, "How to Create your Own 3D Videogame–Style Geologic Field Trip and Host it Online: Accessible, Immersive Data Visualization for Education and Research."
Offered as part of the conference's Diversity & Events section, the course was taught both in-person and online. Participants built their own geologic field trips and learned how to host them on the web to provide access to all.

Participants reported that they were interested in the project for a variety of uses:
Research purposes
Educational: Implementing their own virtual field experiences in their courses
Sharing: Taking the public on an immersive virtual field trip to a place of geological/paleontological importance
Combining their love of video games with their research in geology
The project was also accepted at the GSA Poster session dedicated to emerging research formats. The team had demos of 3 virtual field trip running on laptops around the poster. Both the poster and the demos received a lot of interest!
Upcoming features
Since the conference, the team has been busy adding more tools to the toolkit, including a text tool for displaying text labels in 3D space, and a tool that can make a profile of a surface that has applications to structural geology, field mapping, and geomorphology. Now that some geology courses are permitting group field trips again, the team has not only been looking at how to simulate field geology for remote education, but also how to leverage their virtual geology experiences to enhance in-person education in the field. For this work, the team has revisited how the toolkit is formatted for mobile devices.
The goal of this research is for people to be able to practice field geology from any location and to share their experiences and tours to a common location. Now that the toolkit has been published and demonstrated at a national conference, and the first few experiences created with it are online, and we hope more and more people will use it and make their virtual field experiences public.
---
Virtual field experiences in a web-based video game environment: open-ended examples of existing and fictional field sites (coming in 2022). M. Needle, J. Crider, J. Mooc, J. Akers.
The Structural Geology Query Toolkit for digital 3D models: design your own virtual field experience (2021). Geological Society of America Abstracts with Programs, v. 53, no. 6. Needle, M. D., Mooc, J., Akers, A. F., Crider, J. G.
Virtual field work at the Whaleback Anticline: Measuring fold geometry in a WebGL-based game. (2020). Geological Society of America Abstracts with Programs, v. 52, no. 6. Needle, M. D., Mooc, J., Wang, A. W., Akers, A. F., Crider, J. G.